Elk Point is located in the lower south east corner of South Dakota, is the seat of Union County and a part of the Sioux City metro area.
In recent years, Elk Point has been named one of the "Best Places to Live in Rural America" by PROGRESSIVE FARMER, and has been recognized as "one of the ninth-fastest growing communities in almost 4,000 U.S. Counties," and "the No. 1 area for business recruitment in areas with less than 200,000." Edgar's Old-Fashioned Soda Fountain was voted "the best ice cream shop in the Midwest," by readers of MIDWEST LIVING magazine! CNBC named South Dakota "Best for Business!" as it is a great place to live — and to do business! And in 2013 Nerdwallet.com named Elk Point, "The third best town in South Dakota for young families," based on quality of schools, median cost of living, and the town's economic growth.
The community prides itself in its parks, recreational activities and adventures, providing a business friendly environment and making sure that Family & Community come first through the value of great schools, great friends and great neighbors!
Affordable Housing
Elk Point is an amazing community of people who take pride in their homes and lawns. You'll see a charming blend of older, prairie-style homes, well-kept ranch-style and multiple-family dwellings. And, and don't forget the beautiful new construction featuring the latest home styles and innovations. Or choose a shovel-ready site and build the home of your dreams! The real-estate market in Elk Point is thriving, with reasonable prices and a wonderful quality of life.
Quality Education
The Elk Point-Jefferson school system has a high academic success rate, with low teacher-to-student ratios. The town is greatly supportive of the school system, and donations create scholarship funds for all students. Fans enthusiastically support school sports, drama, fine arts and other activities.
Top-quality higher education is only minutes away at the University of South Dakota or other several higher-education schools within 50 miles. These schools also provide music, theater and public-interest programs.
Community Involvement Builds A Better Community
In 2013, The Pointe Community Center opened, funded in large part by donations, with the majority of labor supplied by local and regional volunteers! Use is available free or at reasonable prices for activities held by the Senior Center or Chamber of Commerce, and for personal use such as graduations, wedding receptions, family reunions, etc.
Volunteers have helped raise funds to build a softball complex which attracts numerous tournament games throughout the year.
In 2014 the Union County Museum moved into the historic Charles Murtha Home, further showing the communities dedication to history.
Amenities
The Elk Point swimming pool has diving boards, slides, and a delightful fenced baby pool with whimsical slide.
The Country Club Golf Course is 9 holes with 3,240 yards of golf with a par 36 course rating 26.2, and a slope rating of 110.
A hard-surface bike/walking path surrounds the town; and the city park has playground equipment, two shelters, grills, pond, Lewis & Clark Wayside Exhibit, and campground.
The Missouri and Big Sioux rivers are just a few miles from Elk Point and provide year-round recreational opportunities, excellent hunting & fishing, and nature-watching.
Just a few miles from the Loess Hills and Stone State Park, for hiking, horseback riding, snowmobiling, cross-country skiing.
Civic and non-profit organizations exist to establish networking for the betterment of the community.
Health-Care Facilities
Elk Point boasts a medial clinic, a chiropractic clinic and health club, assisted-living facility, nursing home, dentist and ambulance/EMT services.
Favorable Business Climate
Low tax structure (no state income tax).
Local governments, professionals, financial and other
private institutions are organized and equipped to assist and support
new and existing businesses.
A shovel-ready business park actively searches for new opportunities.
Ample water, sewer, electricity and garbage-disposal services are supplied by the City at reasonable rates.
Manufacturers can join an already long list of businesses, with proximity to Interstate 29, major SD highways and rail service.
Elk Point features stores, restaurants, industry,
schools, medical facilities, offices, service providers and churches —
an exceptional example of a thriving prairie town in a fast-growing area
of the state.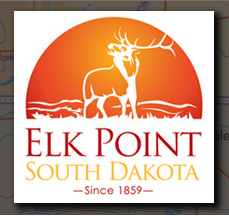 Our Region & Surrounding Areas
Our proximity to larger cities such as Sioux Falls, Sioux City and Omaha means a short drive to cultural events, shopping malls, concerts and theaters. Below are the approximate driving times from Elk Point to the listed destination.
Sioux City – 15 Min.
Vermillion – 20 Min.
Sioux Falls – 1 Hr.
Interstate 90 (Sioux Falls) – 1 Hr.
Omaha – 90 Min.
Interstate 80 (Omaha) – 2 Hrs.
Interstate 70 (Kansas City) – 5 Hrs.
Minneapolis/St. Paul – 5 hrs.
Rapid City – 6 Hrs.